Malaysia : Johor - Coronation of Sultan Sir Ismail (1960) MNH
Printer
Hélio Courvoisier S.A., La Chaux-de-Fonds, Switzerland
Printing Method
Photogravure
Condition
Mint Never Hinged - Superb
168
Standard Stamp Catalog of Malaysia, Singapore & Brunei
Malaysia : Johor - Coronation of Sultan Sir Ismail (1960) MNH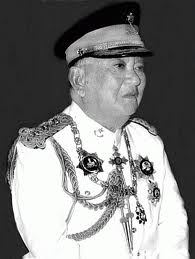 Sultan Ismail Al-Khalidi ibni Ibrahim Al-Masyhur
, KBE, CMG, was the 23rd Sultan of Johor in Malaysia.
Tunku Ismail was born on 28 October 1894 at Istana Semayam, Johor and was the eldest son of Tunku Ibrahim (later Sultan Ibrahim) by his first wife, Sultanah Ungku Maimunah binti Ungku Abdul Majid. He was made the Tunku Mahkota of Johor on 2 November 1895, when Tunku Ibrahim was installed as the Sultan of Johor following Sultan Abu Bakar's death.
He was crowned at Istana Besar, Johor Bahru on the 10 February 1960 and was the last Johor Sultan to be officially crowned.
STAMP STRUCTURE
10
سين
CENTS
PERSEKUTUAN TANAH
MELAYU
JOHORE جوهر
كمهكوتأن سلطان اسماعيل 10 فيبرواري 1960
CORONATION SULTAN ISMAIL 10 FEBRUARY 1960

The following text must accompany any text or photo taken from this page and limited use for non-commercial purposes only.

Texts and Images were taken from and courtesy of Exonumi.com
URL: http://www.exonumi.com/publish-SP.1.904

| | |
| --- | --- |
| Disclaimer : | Exonumi does not responsible to verify the information and therefore has no legal standing. Visitors are encouraged to take precaution and do own's due diligence study before relying on the provided information. |