Yang Di-Pertuan Besar Tuanku Ja'afar Silver Jubilee (1992) with margins
Type
Stamp (Complete Set)
Condition
Mint Never Hinged - Extra Fine
MYNGS.123
Exonumi Stamp Catalog
MYNGS.124
Exonumi Stamp Catalog
Yang Di-Pertuan Besar Tuanku Ja'afar Silver Jubilee (1992) with margins
$1 has one brown spot on the back.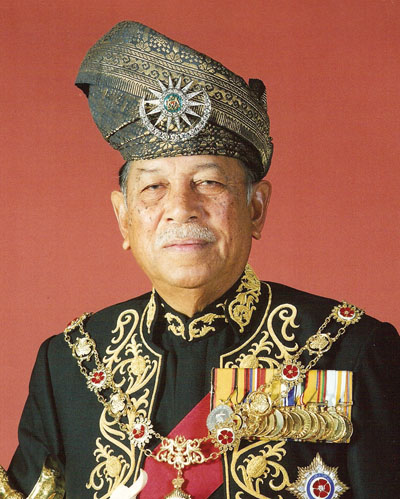 Tuanku Jaafar ibni Abdul Rahman
The second son of Tuanku Abdul Rahman ibni Almarhum Tuanku Muhammad, he was the first of four children by his commoner wife, Eurasian nurse Dulcie Campbell or better known as Che' Engku Maimunah binti Abdullah. The couple subsequently divorced.
Having studied at the Malay College Kuala Kangsar, he graduated from theUniversity of Nottingham before attending Balliol College, Oxford and the LSE. Tunku Ja'afar then joined the civil and diplomatic service of the Malaysia.
Tuanku Ja'afar was to have left for Japan to serve as the Malaysian Ambassador to that country but was recalled by the State Government of Negeri Sembilan following the demise of his half brother HRH Tuanku Munawir, the then ruler of Negeri Sembilan, in 1967.
All four Undang (Territorial Chiefs) had unanimously elected Tuanku Ja'afar as
the fourth Yang di-Pertuan Besar of Negeri Sembilan
to succeed HRH Tuanku Munawir. The election was controversial as the heir presumptive to the throne, Tuanku Munawir's son Tunku Muhriz was by-passed. It has been suggested that the then Prime Minister of Malaysia,Tunku Abdul Rahman, instructed the council not to choose Tunku Muhriz on account of his youth (he was then eighteen).
Tuanku Ja'afar ascended the throne as the 10th Ruler of Negeri Sembilan on 18 April 1967.
Tuanku Ja'afar passed away on 27 December 2008 at Hospital Tuanku Jaafar, Seremban. His younger brother, Tunku Panglima Besar Tunku Tan Sri Abdullah had died four months earlier. Before Tuanku Ja'afar's death, he was admitted to the hospital after feeling dizziness. He was buried at the Seri Menanti Royal Mausoleum at Seri Menanti on 29 December 2008.
The following text must accompany any text or photo taken from this page and limited use for non-commercial purposes only.

Texts and Images were taken from and courtesy of Exonumi.com
URL: http://www.exonumi.com/publish-SP.1.735

| | |
| --- | --- |
| Disclaimer : | Exonumi does not responsible to verify the information and therefore has no legal standing. Visitors are encouraged to take precaution and do own's due diligence study before relying on the provided information. |