Great Britain - STAR WARS™ Miniature Sheet : Presentation Pack (2015)
Issued Price
8.07 Pound Sterling
Printer
International Security Printers
Printing Method
Lithography
Condition
Mint Never Hinged - Extra Fine
Great Britain - STAR WARS™ Miniature Sheet : Presentation Pack (2015)
Not to be mistaken with Presentation Pack because this sheet also came in a protective a clear plastic sleeve.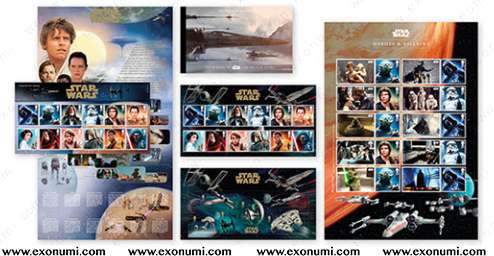 Part of
STAR WARS™ Tie Fighter Bundle
, with 10% savings.
| | |
| --- | --- |
| £12.35 | Presentation Pack of 2 |
| £16.99 | Prestige Stamp Book |
| £7.76 | STAR WARS™ Character Stamp Set |
| £3.98 | STAR WARS™ Miniature Sheet Stamp Set |
| £6.80 | STAR WARS™ Collector Sheet |
Total:
£47.88
, a saving of £4.88
Final total of
£43.00
(inclusive VAT).
1st class
price is
63p
, therefore total face value for this MS is £3.78
X-Wing Starfighter
,
1st
X-WING STARFIGHTER This versatile and nimble Incom T-65 X-wing starfighter was used by the Rebel Alliance in their fight against the Empire. It was co-piloted by an astromech droid and armed with laser cannons and proton torpedo launchers, balancing speed with firepower.
AT-AT Walkers
,
1st
AT-AT WALKERS The massive All Terrain Armored Transport, or AT-AT walker, is an armour-plated, four-legged transport and combat vehicle used by the Imperial ground forces.
First Order Special Forces Tie Fighters
,
1st
FIRST ORDER SPECIAL FORCES TIE FIGHTERS The elite of the First Order starfighter pilots have access to specialised craft, such as these two-seater TIE fighters outfitted with enhanced weapons and sensor systems.
Tie Fighters
,
1st
TIE FIGHTERS Carried aboard Imperial Star Destroyers and battle stations, TIE fighters are single-pilot vehicles perfect for fast-paced dogfights with Rebel X-wings and other starfighters.
Resistance X-Wing Starfighters
,
1st
RESISTANCE X-WING STARFIGHTERS The modern incarnation of a classic design, the Incom T-70 X-wing fighter is the signature combat craft of the Resistance forces in their fight against the First Order.
Millennium Falcon
,
1st
MILLENNIUM FALCON An extensively-modified Corellian light freighter, the Millennium Falcon is a legend in smuggler circles and is coveted by many for being the fastest hunk of junk in the galaxy.
The following text must accompany any text or photo taken from this page and limited use for non-commercial purposes only.

Texts and Images were taken from and courtesy of Exonumi.com
URL: http://www.exonumi.com/publish-SP.1.1829

| | |
| --- | --- |
| Disclaimer : | Exonumi does not responsible to verify the information and therefore has no legal standing. Visitors are encouraged to take precaution and do own's due diligence study before relying on the provided information. |