Malaysia : Gold-Plated Stamp - The Baba & Nyonya Heritage (2014)
Designer
Reign Associates Sdn Bhd & POS Malaysia Bhd
Printer
Cartor Security Printing
Printing Method
Metal Stamping
Condition
Mint Never Hinged - Extra Fine
Malaysia : Gold-Plated Stamp - The Baba & Nyonya Heritage (2014)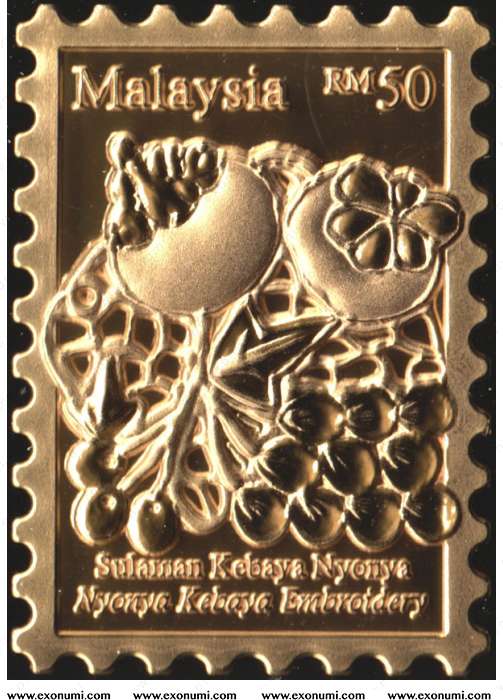 ALLURING • ELEGANT • BEAUTIFUL
The Nyonya Kebaya says it all, without revealing all. It evokes a romance of the past, when Nyonyas stood proud yet demure in sheer silhouttes of wonderfully embroidered voile blouses.
The Nyonya kebaya first appeared in Baba Nyonya culture only at the beginning of the twentieth century. The earliest photos showing wearing kebaya date to the 1920s. The Nyonya kebaya came to be identified with change. As it eclipsed its precursor, the baju panjang, it signalled the emergence of the new Nyonya : modern, feminine and sensual. The rising of hemlines and the groqing decline of modest Victorian fashions in the west, as well as tightening of the silhoutte in the popular Chinese cheongsam in China's fashionable cities, was paralleled by the emergence of the Nyonya kebaya.
The fabric of the Nyonya kebaya is called "Kasar rubia (Voile)". Voile is a sheer, light-weight, plain weave fabric, made of highly twisted yarns. Often made of cotton yarns, voile has a distinctive two-ply warp and is slightly heavier than other sheer fabrics. Voiles come in a variety of colours, from plain white to black, and almost every shade of blue, red, pink, green and purple in between.
SLEEK • FINE • STUNNING
From the way the kebaya blouses wrapped the bodies of their wearers to the stunning colours and embroidered designs, the Nyonya kebaya is not merely a dress, it is a work of art.
STAMP ISSUE
Issued on 1 December 2014, however it was only officially announced for sale on 3 December 2014 at
Kuala Lumpur World Youth Stamp Exbition 2014
and caught collectors by surprise.
Unlike previous golden looking stamps which were printed from either golden inks or gold foil, this particular stamp is an actual plated metal.
This metal stamp is valid for postage.
Metal
: Copper Plated with 22k Gold
Weight
: 1.46 ± 0.05 g
Dimension
: 25 x 35 x 0.1 mm
The following text must accompany any text or photo taken from this page and limited use for non-commercial purposes only.

Texts and Images were taken from and courtesy of Exonumi.com
URL: http://www.exonumi.com/publish-SP.1.1230

| | |
| --- | --- |
| Disclaimer : | Exonumi does not responsible to verify the information and therefore has no legal standing. Visitors are encouraged to take precaution and do own's due diligence study before relying on the provided information. |