PAYMENT TOKEN / TRANPORTATION CARD
Denmark - Lycamobile : Pay-As-You-Go Recharge Card 100 Kroner Talktime (2015)
Posted by shahirasul
Viewed 34 times.
Posted 23-July-2017 01:02:50 PM
Updated 24-July-2017 09:29:34 AM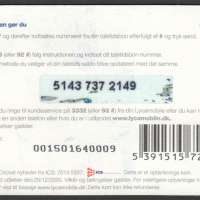 Issuer's Name
Lycamobile Europe Limited
Issuer Type
Telecomunication Company
Card Type
Prepaid Mobile Recharge Card
Denmark - Lycamobile : Pay-As-You-Go Recharge Card 100 Kroner Talktime (2015)
Lycamobile is a Mobile virtual network operator (MVNO) that operates in Australia, Austria, Belgium, Denmark, France, Germany, Ireland, Italy, Netherlands, Norway, Poland, Portugal, Romania, Spain, Sweden, Switzerland, Hong Kong, the United States, Tunisia and the United Kingdom, where it is based.

Lycamobile sells international pay-as-you-go SIM cards to consumers wanting to make international telephone calls. An MVNO leases radio frequency from mobile phone network operators and it forms partnerships with the operators in each country it serves.
The following text must accompany any text or photo taken from this page and limited use for non-commercial purposes only.

Texts and Images were taken from and courtesy of Exonumi.com
URL: http://www.exonumi.com/publish-PC.1.96

| | |
| --- | --- |
| Disclaimer : | Exonumi does not responsible to verify the information and therefore has no legal standing. Visitors are encouraged to take precaution and do own's due diligence study before relying on the provided information. |