Denmark : 1000 Years of Danish Coinage (1995) 20 Kroner
Denomination
20 Danish Krone
Coin Type
Commemorative Coin
Punch / Orientation
↑↑ Medal
Front Legend
DRONNING MARGRETHE II
DANMARK
Back Legend
DANSK MØNT
20 KR.
Rim / Edge Legend
995-1995
Monarch
Queen Margaret II
Mint
Royal Mint, Copenhagen
Composition
Aluminum-Bronze
Coin Shape
Round - Circular
KM# 879
Krause Standard Catalog of World Coins 1901-2000
Denmark : 1000 Years of Danish Coinage (1995) 20 Kroner
Alloy:
Cu92Al6Ni
2
Issue Date:
14 September 1995
OBVERSE
In the coin centre a bust of Queen Margrethe II of Denmark in a hat facing left.
Along the left edge:
DRONNING MARGRETHE II
, below in concave lettering:
(Queen Margrethe II written in Latin and Runic alphabets)
Along the right edge:
DANMARK
, below in concave lettering:
(Denmark written in Latin and Runic alphabets)
REVERSE
In the centre a crown with a cross in the background; along the top edge:
DANSK MONT
(Danish Mint); along the left edge face value:
20 KR.
(KRONER); along the right edge two dates:
995-1995



EDGE
Seven plain and seven reeded sections
DESIGNER
Jan Petersen (symbol of fox' head inside the letter O in MONT on the reverse)
MINT
Den Kongelige Mønt (The Royal Mint), Copenhagen (mint mark HEART-shape inside the digit 0 in face value on the reverse; below the crown in the reverse with concave lettering initials of mint's director Grove LG)
DESCRIPTION
The commemorative coin with face value 20 kroner from 1995 marks the 1000
th
anniversary of the Danish coinage. The deep relief makes it unusual. For the first time in the history of modern Danish coinage a very deep stamp was used to imitate the medieval coins. The reverse is not a copy of any specific coin. A crown and a cross are popular medieval motifs on Danish coins. Below there is an example of a coin struck by Sven Forkbeard in ca. 995. The inscription says:
ZVEN REX DAENER
(Sven King of Denmark). Coins of this type are considered to be the beginning of the Danish coinage.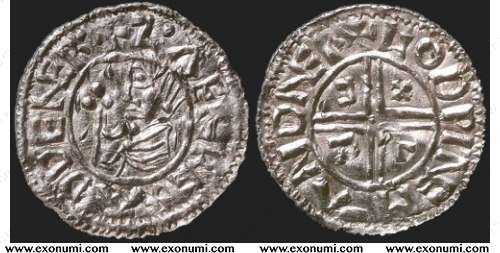 The following text must accompany any text or photo taken from this page and limited use for non-commercial purposes only.

Texts and Images were taken from and courtesy of Exonumi.com
URL: http://www.exonumi.com/publish-CN.1.250

| | |
| --- | --- |
| Disclaimer : | Exonumi does not responsible to verify the information and therefore has no legal standing. Visitors are encouraged to take precaution and do own's due diligence study before relying on the provided information. |