Federated Malay States - Letter Card 4¢ (1928) SPECIMEN : Very Rare Philatelic Item ★★★★★
Country
Federated Malay States
Class
Definitive / Regular Issues
Front Inscription
LETTER CARD FEDERATED MALAY STATES
Printer
De La Rue & Co, Limited
Condition
Mint Never Hinged - Very Fine
Federated Malay States - Letter Card 4¢ (1928) SPECIMEN : Very Rare Philatelic Item ★★★★★
Stain noticed on top-right.
So far, no known survived used letter card has been documented. Also some collector may keep this prized letter card as not many has known to exist.
The lid of the card is still originally sealed as they way it has been kept by previous owner.
---
A letter card almost has the advantages of a postal card as far as weight and size, but also the advantage of privacy of contents is concerned. It is a double card, folded over, with gum or adhesive applied to the three open edges. It is then opened by the recipient by tearing perforations on the three sides that are on the message side of the gum. The gummed strip around the card is then discarded, giving rise to the problems collectors have in finding intact used cards.
In philately a lettercard or letter card is a postal stationery item consisting of a folded card with a prepaid imprinted stamp. The fact that it is folded over gives the writer twice as much room for the message compared with a postal card. The message is written on the inside and the card is then folded and sealed around the edges. The recipient tears off and discards the perforated selvages to open the card.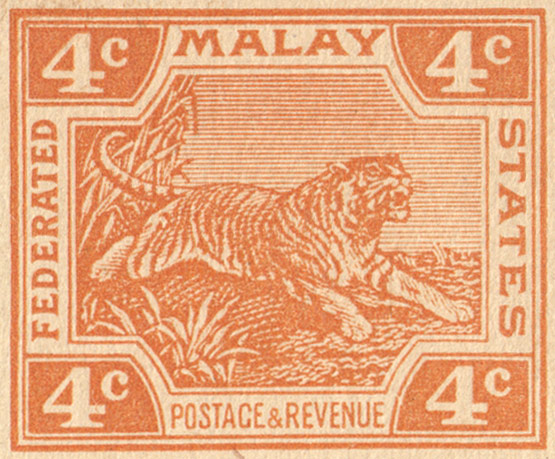 Indicia:
Leaping Tiger
The Letter Card showing the official coat-of-arms of the United Kingdom of Great Britain and Northern Ireland instead of one by the Federated Malay States.
The official coat-of-arms of the United Kingdom of Great Britain and Northern Ireland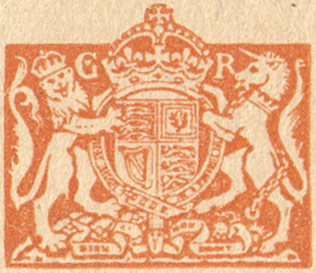 Coat-of-arms printed on the letter card with
King George V'
s monogram.

Note at the bottom of the lettercard:
TO OPEN THE LETTERCARD, TEAR OFF THE EDGE AT THE PERFORATION.

Note at the reverse side of the lettercard:
IF USED FOR TRANMISSION ABROAD THE ADDITIONAL POSTAGE REQUIRED SHOULD BE SUPPLIED BY MEANS OF ADHESIVE STAMPS.
The following text must accompany any text or photo taken from this page and limited use for non-commercial purposes only.

Texts and Images were taken from and courtesy of Exonumi.com
URL: http://www.exonumi.com/publish-SP.1.1119

| | |
| --- | --- |
| Disclaimer : | Exonumi does not responsible to verify the information and therefore has no legal standing. Visitors are encouraged to take precaution and do own's due diligence study before relying on the provided information. |